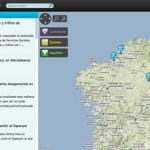 Somos muchos los que navegamos por Internet en la búsqueda de noticias de última hora, proporcionadas por diferentes medios, entre los que destacan los periódicos en línea. Esa navegación nos obliga a utilizar nuestra lista de marcadores o un lector de feeds para encontrar lo más reciente. Now, with Hubii, lo tenemos más fácil. Es un servicio web que nos muestra las últimas noticias aparecidas en todos los medios próximos a nuestra ubicación geográfica o a la que señalemos en cada momento.
La página es muy intuitiva. En la parte derecha se encuentra un mapa y a la izquierda un panel con las noticias más recientes. Al entrar por primera vez en Hubii se nos mostrarán las informaciones proporcionadas por los medios que se encuentran próximos al lugar en el que nos encontramos. Por defecto está activada la pestaña News Browser in the left panel. La pestaña Mapazine te permite suscribirte a noticias filtradas por fecha, idioma, localización de la fuente y mucho más.
El funcionamiento del sistema se basa en la alimentación de RSS. Si no encuentras las noticias de un determinado medio, puedes pulsar sobre el botón Contribute para que los responsables del servicio valoren su inclusión. Para leer las noticias que corresponden a otros medios sólo tienes que indicar la región en el mapa. Además del botón Contribute hay otros dos. Eyenew permite indicar el tipo de mapa a mostrar, and Mapfilter te da la posibilidad de indicar las fuentes, desde blog a periódico, pasando por revista o noticias de corporaciones, así como indicar la categoría, el tiempo y el lenguaje.
Cuando pulses en una determinada posición en el mapa con el fin de localizar nuevas noticias, se te mostrará en una ventana emergente la lista de los medios encontrados. Selecciona el que desees para ver la última información proporcionada en el panel de la izquierda. Si te has suscrito a Mapazine, siempre que pulses en la pestaña verás las últimas noticias de los medios que indicaste en tu suscripción. Podrás además filtrar las noticias por categorías.
Source | Addictive Tips
Link | Hubii